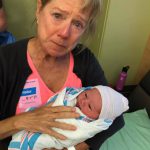 Something about this picture struck me deep. It elicited a heartfelt love and appreciate for a very special person in my life.
Looking at this image, I see, in my mind, an earlier image – the first time I met Carol.  I was looking through a window of an outer door that was at the end of a hallway of an Eglin AFB hospital ward. The nurse had wheeled her up to the window, in a bassinet, and there she lay – fat cheeked, eyes closed: my new sister. It is an image seared into my memory forever. And now this. She, a new Grandma. And that look in her eyes. Every imaginable emotion. The exhaustion, the joy, the love. Carol, I can feel it. It's a stunning image to me.
I am so happy for the family. A new being. A new adventure.